Nithiya and I have known each other for about three years and we live in the same neighbourhood, The Dales, in Ipoh. This year we went on a holiday to Cambodia.
l-r Mrs Ignatius, me, Sharon Pinto and Nithiya at Janice's wedding reception at the Red Crescent Hall, Ipoh
Nithiya and I are friends and our maids are friends too.
l-r Silvi Nithiya's maid and Omneza my maid at Janice's wedding reception
Chandra has been based overseas for the past 5 years, and in Phnom Penh since June 2010. He helped book our internal flights and hotel rooms.
The holiday began when Nithiya drove us to KL. There was such a feeling of lightness as I left Ipoh behind me and took a cab from KL Sentral to Eastin Hotel. Roy and Vivian came over once the traffic jam in KL had eased and a short while later Chandra joined us. He had come from Jakarta.
By five thirty we checked in and went to our designated gate, a gate that had no toilets!
Chandra had booked his special red seat.
Elephant head tree at Phnom Penh Airport
We were met by Saron and it was a pleasant drive to the city and the apartment.
l-r Nithiya and Saron, Chandra's driver
Chandra's two-room apartment is really quite a nice one, made more comfortable by the maid who comes in on alternate days.
Once we had deposited our bags and freshened up, we drove out to K West in front of the river, for a western breakfast.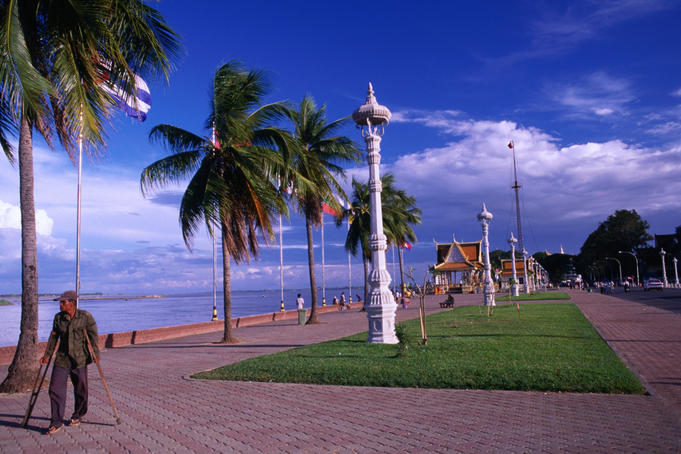 The river front facing K West
Mohan, wife and son joined us. I gave Mrs Mohan the Deepavali sweets that we had brought.
Mohan handed over our flight tickets to Siem Reap and for a moment I had doubts as to whether I had done the right thing by booking the flight to Siem Reap without consulting Nithiya first.
Nithiya and I decided to take a leisurely walk from K West along some interesting shops. I bought a sitting Buddha for Roy for about USD26. That Buddha signifies peace. I later saw a similar one in the market place for USD15!
We visited a temple, then walked to the museum and finally decided to book a tuk-tuk for four hours for USD 10.
We enjoyed the tuk tuk ride. We visited another temple, fed the elephant some bananas and were able to keep our Buddha with the tuk tuk boy.
Nithiya and the elephant that we had fed earlier with bananas
Then we proceeded to Central market.
The entrance to Central Market - a flower among flowers
It was fun buying scarves and bags for our friends and family back home.
Scarves for sale
I got a table cloth for Roy and a blouse for Viv. Nithiya bought a number of things as well.
Next on the agenda was a visit to the Russian market and from there we went to
You and Me
for a massage. But heading for home, we had delicious, hot garlic bread and a cold drink in one of the numerous road-side cafes in front of the river.
At the apartment we could not operate the lift since we did not have the security tag to activate the lift. We had to use the stairs to get the office lady to work the lift for us. We banged on the door, rang the bell and banged on the door repeatedly. Finally Chandra emerged and told us that he had left the door open for us!
Dinner was at the Aussie Pub. Paramjeet Singh Gill, famous for being the father of Asha Gill (Discovery Travel and Living) joined us for dinner. We had roast pork and chicken. Param regaled us with tales in which he was the hero most times. After dinner we took a slow walk back to the apartment.
It was a pleasant evening.
Day 2 of our holiday in Cambodia
23rd October 2011
We reached the airport early and got a seat in the cafeteria.
The Angkor Air flight was not a long flight and it was quite uneventful.
In Siem Reap
A guy at the airport desk arranged a taxi for us. The driver was Ra. He charged USD60 for a day. He took us to the hotel and after a bit of haggling, we got our room for USD60, 5 dollars cheaper than what they had promised Mohan. We also got breakfast for 5 dollars each.
After breakfast, our trip to the ruins of Angkor began.
Ra, took us to Angkor Thom. I will let Nithiya's pictures speak for me.
The tree of life
Then we went to Angkor Wat.
Maha Vishnu - Angkor Wat was a Hindu Temple first
Calm amidst the destruction
The Lone Monk
As you sit there in your yellow robes
My camera with its lens probes
The inner recesses of your mind
But nothing does it find
Save the robes, the slippers and your face.
As I sit here and try to put into words the grace
That I see in this picture of you
I realise that like the dew
One minute you are here
The next minute you are a mere
Image taken by a photographer
To be put on a piece of paper!
The Marching Monks
The place is in ruins
These are the only human beings
That bring the ruins to life
And make us forget the strife
That tore their country apart.
The young monks come in robes of yellow or orange
They do not strike us as normal or strange
They are young and innocent little boys.
Do their hearts feel the pain and the joys
That tore their country apart?
We are visitors to their country
We come, we see and write of their beauty
We visit the ruins and take pictures
Of people, buildings and sculptures
Do we really care what tore their country apart?
The Cambodian Shirley Temple
This young girl stood under a tree
And sang a song just for Nithiya and me.
A basket of leaves she placed at her feet
For the money from all she would meet
Alas I reget to say
That I did not pay
To hear her song -
I committed a wrong
By singing her a song!
Leaving Angkor Wat
The temple with the banyan trees was scary. When he stopped at another temple, I stayed in the car and Nithiya took a walk.
After all that walking and climbing up and down and viewing ruin after ruin, I decided to pamper my poor almost ruined feet. Nithiya originally decided to rest but soon succumbed to the lure of gentle hands. What luxury.
Ra took us to a salon, run by a Chinese lady. That was our first encounter with a person who was less than polite and friendly.
Nithiya was taken to the back for her hair wash and it was not a good job at all. When it was time for drying, they did not dry Nithiya's hair, they had only one hair dryer!!!
We then proceeded to the restaurant to book our dinner cum Apsara dance show and decided against going back to Angkor to view the sun set.
It was a buffet dinner with a very wide spread of delicious food which we enjoyed. The music according to Nithiya was very gamelan. The dance to me was a cross between something Thai and Malay.We did not stay till the end of the show, which I found to be a bit slow.
Day 3
We got up slowly, showered, changed and went down for breakfast. The selection was not so good. After breakfast we caught up with our new driver. I forget his name.
We wanted to visit the Tonle Sap. He took us to some point and there were lots of locals and boats. We did not venture. We asked him to find another route. He drove us to another point and it was obvious that due to the floods, we could not embark in the normal way. We bought our boat tickets and found that we had to take a small boat out to get to the big boat.
A girl got a chair for me and I got on top of the chair and from there into the boat. There was a boatman and a boy. The boy had a most enchanting face.
Nithiya with the Jackie Kennedy pose when fleeing from the paparazzi!